A Guide to Tomahawk Steaks
Tomahawk Steaks are a popular cut of steak that is known for its thick, bone-in ribeye. Tomahawks have always been a favorite among restaurants and chefs because it's easy to cook them well without overdoing any part of the meat. It has an impressive size at approx 35-40 ounces, which can feed 2 people (If you actually wanted to share it). Tomahawks are a favorite among steak lovers because of the generous amount of fat and thick marbling that is found on top of these bones, making them easy to cook well without overdoing any part.
Tomahawk Steaks come in two different varieties: bone-in or boneless. Boneless Tomahawk Steaks are often smaller than the Tomahawk Steak with bones. Bone-in Tomahawks are more popular because they give restaurants and chefs a chance to show off their skills by cooking it in front of guests, but using a mallet or heavy knife is typically required for cutting Tomahawk steaks that have bones. Tomahawks can be a great option for someone who wants to serve an impressive meal at home.
Where do you get Tomahawk Steaks from?
Tomahawk steaks can typically be found in many steak restaurants, but it can be hard to find them in grocery stores but are often available from quality independent butchers shops and more recently online for home delivery.
How much are Tomahawk Steaks to buy?
Tomahawk steaks can be all over the map in terms of pricing. Tomahawks are usually priced around $30-80, which is can a significant amount less than other high-quality steak cuts like Prime Ribeye or Beef Tenderloin Filet Mignon. Tomahawk Steaks aren't always going to guarantee you the best cut but Tomahawk steak is the perfect choice if you want to impress your dinner guests with something special that's not too hard to cook and doesn't cost too much money
How do you cook a Tomahawk Steak?
Tomahawk Steaks are often cooked using a dry-heat method. Tomahawks should be seared on both sides, then the Tomahawk steak is put in an oven or grill to finish cooking it. If you want to, use some quality olive oil, butter, bacon fat, or beef drippings to seal in the juices when cooking. A Tomahawk steak will take around 30 minutes to cook with this type of preparation.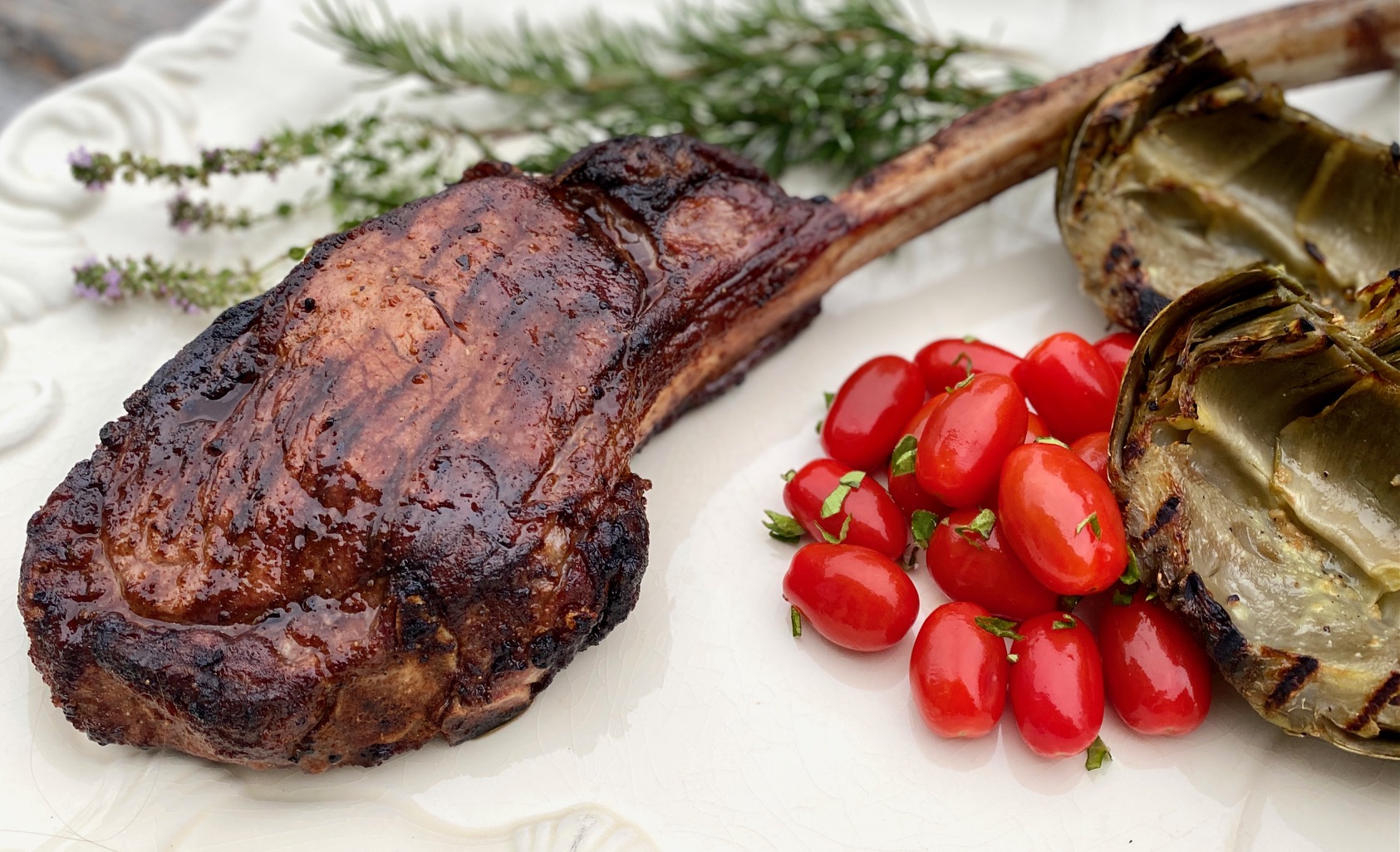 What cuts come from Tomahawk Steak?
Tomahawk steaks are a type of bone-in rib steak that comes from the Chuck section, with Tomahawks usually coming from both the Rib and Short Loin. The cut comes on the bone so it keeps its shape during cooking.
What are some benefits of Tomahawk steak?
Tomahawks have been known for their tenderness, incredibly marbling, and robust flavor. Tomahawks are named for their resemblance to the tomahawk head, with a wide flat end on one side of the steak and a rounder edge on the opposite side. Tomahawk steaks have been known as some of the best beef in existence because they're so tender and flavorful. Tomahawk steak is a generous cut of meat that's typically enough for two servings
What to have with your Tomahawk Steak
The first thing you should have in mind when preparing Tomahawk Steak is what to cook with it. You could go for a simple dish such as Herbed Butter Roasted Potatoes or make something more complex like Chef's Choice Buttermilk Fried Chicken. Tomahawk Steak is so big that it can be hard to find a dish that will fit with the size of it. A great way to ensure you pick something appropriate for your Tomahawk Steak would be to have a quick look at what other people on Instagram are cooking and see what dishes they recommend pairing with Tomahawk Steak.
For great BBQ recipe ideas visit our recipe section by following this link and as usual please leave a comment below if you liked this article.